Hair extensions are like eyelash extensions in the sense that once you've tried them, you have to have them all the time. Once you see the difference they make, you'll want to put them on for special occasions and those days when you just want to feel a little extra special.
The good news is that you can consider many types of hair extensions, including clip-ins, micro loops, and tape-in hair extensions.
Wholesale hair extensions refer to the purchase of hair extensions in bulk at discounted prices from manufacturers or suppliers. Instead of buying individual pieces or sets, wholesale allows businesses, salons, or professionals to acquire a larger quantity of hair extensions at a reduced cost per unit.
Don't know the difference between the three? Read on as well you all about them.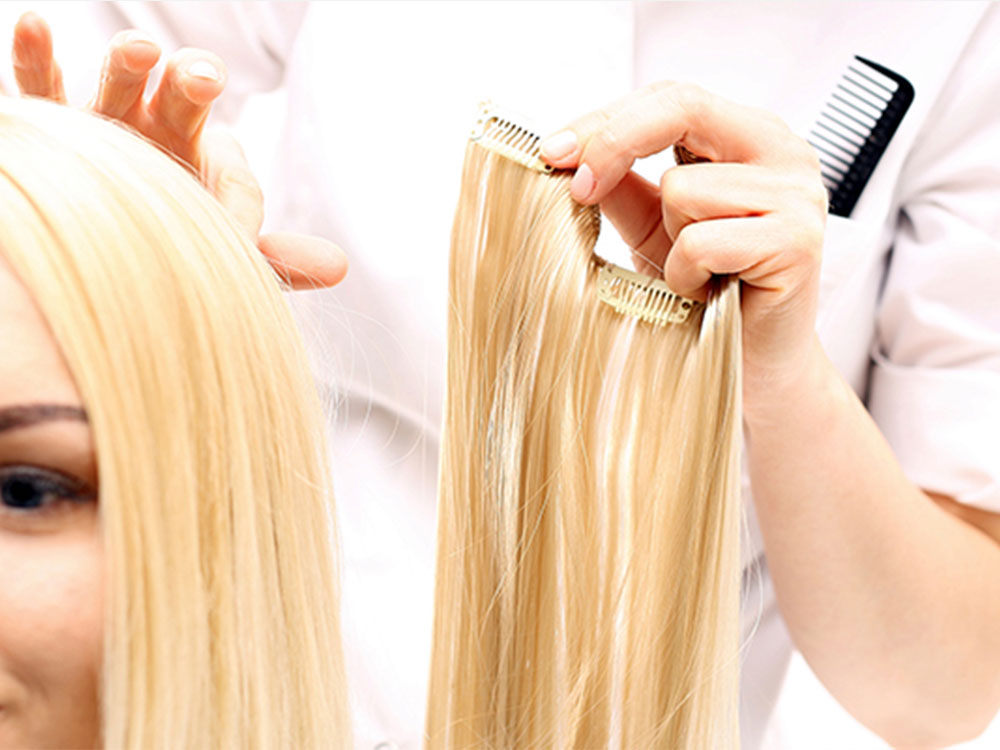 Clip-Ins vs. Micro Loops vs. Tape-In Hair Extensions: What's the Difference?
#1. Clip-In Extensions
When it comes to hair extensions, most women start with the clip-in variety because they're easy to attach and remove. This allows you to experiment with them without requiring a significant investment or a visit to the salon.  You also don't have to wear them long-term. It's a great way to see if you like having hair extensions and what they can do for you.
Another bonus is the wide range of clip-ons. You can choose clip in extensions from different colors, lengths, thicknesses, and styles.
Pros:
Short-Term to Zero Commitment. Anytime you feel like having more length in your hair or want extra volume, you can use these extensions and remove them without going to your hairstylist.
Beginner's Best Friend. Clip-in hair extensions are easy to use. You don't need extra hands or special tools to put them on. Removing them is also as easy as 1-2-3.
Affordable and practical. As much as you want your hair to be voluminous, there are days when you need to let it breathe and let your natural hair down. With clip-ins, it's incredibly easy to do this. It's also the most affordable option of the three.
Cons:
Becomes Uncomfortable if You Wear Them for Too Long. Depending on the number of clip-ins you attach and how often, the weight can become too much for your scalp and become uncomfortable after wearing them for long periods.
Gets Dislodged Easily. You have to avoid touching your hair too much. Tugging, finger-combing,  and too much pressure can move them out of the place.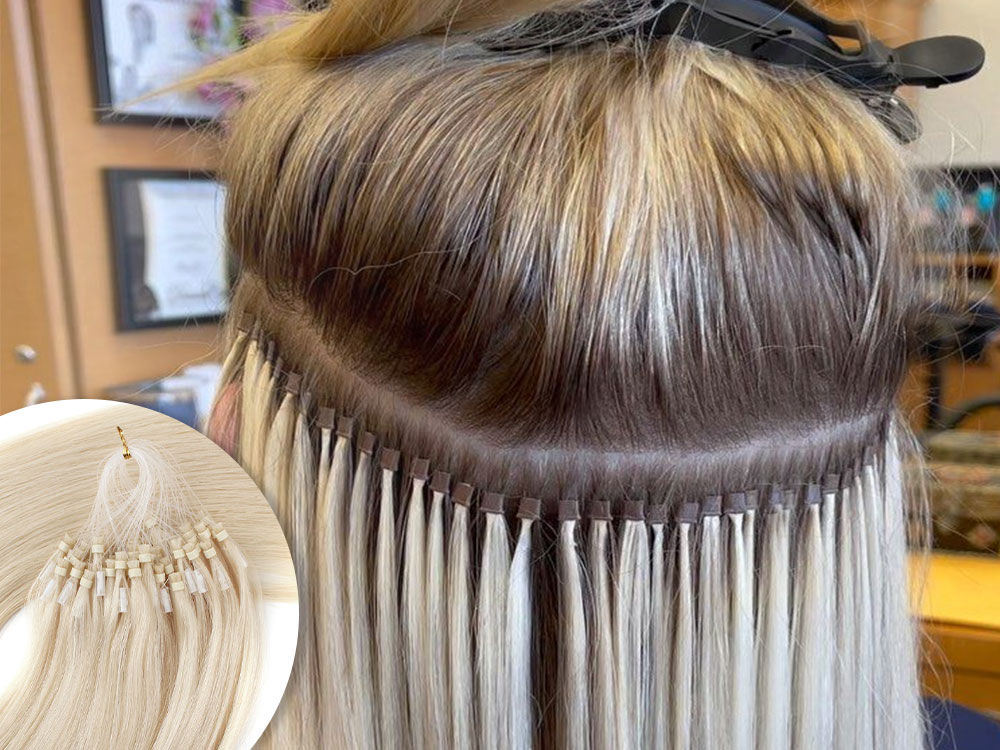 #2. Micro Loops
Semi-permanent hair extensions that can last up to three months, micro loops work by putting your hair strands into small metal hoops. There's no need to use heat or glue to get the hair in place because the metal ring already comes with a clamp that secures your hair in place.
This is highly recommended for women with thin and fine hair who would like to avoid damaging their locks.
Pros:
Discreet and Provides a Natural Look. Because the metal hoops are so small and individually attached to your hair, you can loop them closer to your hairline, providing a more natural look whether your hair is dry or wet.
Reusable and Affordable. This is a more cost-effective hair extension because you can reuse it several times. You only need to change the beads every time you install them.
Easy and Quick Installation and Removal. There is no need to use heat or glue for micro loops; you only need your hair, bead, and clamper tool to make this work.
Cons:
Time-Consuming Application. Attaching micro hoops can take anywhere from 2 to 4 hours. It can take even longer if your hair transformation is more drastic.
Can Lose Some Strands From the Extension. Since no adhesives are used and it relies entirely on the clamp, expect to lose some strands from your hair extension occasionally. This is normal, but it can be a cause for concern, especially if it's your first time.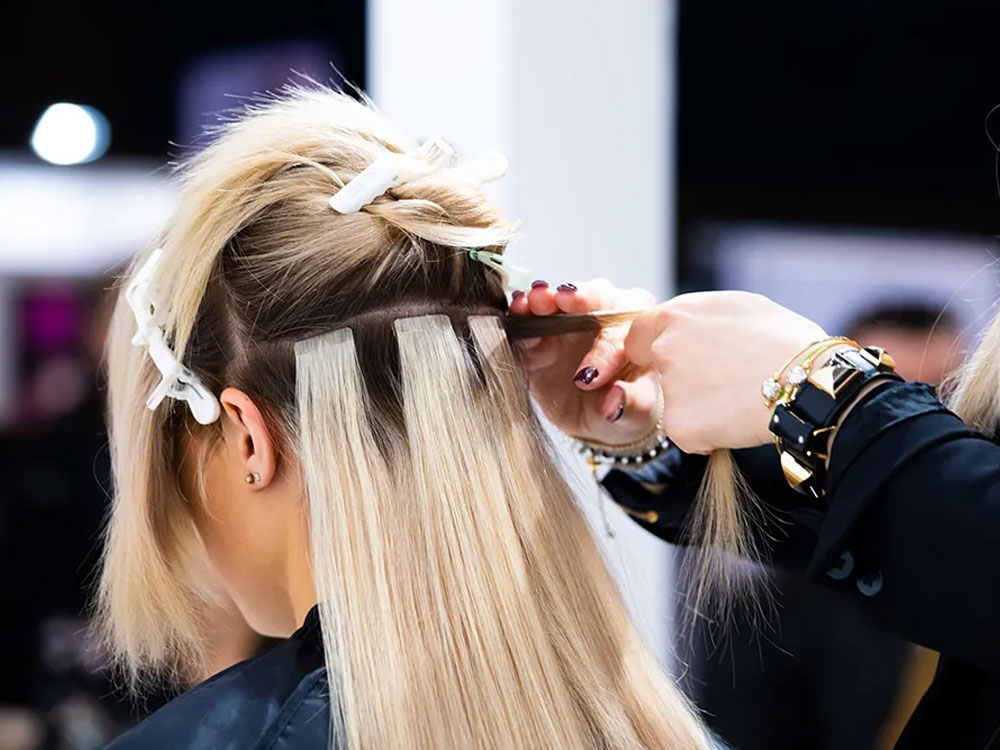 #3. Tape-In Hair Extensions
Tape-in hair extensions rely on small (about 4cm wide) sticky tabs to attach. Thanks to the medical-grade adhesive, these semi-permanent extensions are sandwiched into small pieces of your hair and can remain in place for up to six weeks before they need to be removed, re-applied, or replaced.
Pros:
Easy Application. This is your best bet if you need a fuller mane in less than an hour.
Super Secure Extensions. Thanks to its adhesives, you can be confident that these hair extensions will stay put.
The tape tabs of these extensions are flat so they won't be noticed, especially when your hair is down.
Cons:
Not Ideal for Updos. Due to their adhesives, they aren't the best choice when you need to put your hair up in a ponytail, bun, or braids. They are discreet, but only when your hair is up.
Time-Consuming Removal. Application is a breeze, but removing these extensions takes time, especially if you plan to preserve them for future use. They're so difficult to remove that many times, it's best to purchase a new set rather than use them again.
Hair extensions are a popular accessory for enhancing one's hairstyle and purchasing them wholesale offers cost-effective options for businesses or professionals. Wholesale suppliers provide a wide range of clip-in and tape-in hair extensions, allowing buyers to choose from various lengths, colors, and textures. By opting for wholesale, individuals can access high-quality hair extensions at competitive prices, making it easier to meet the demands of clients and customers.
Final Thoughts
So, clip-ins, micro loops, or tape-ins? We've given you enough information so you can choose the right one. As we've mentioned, if you're a beginner to hair extensions, start with clip-ins. Once you have a better idea of what you need, you can move on to micro loops or tape-in extensions which are more expensive and take more effort to attach.
For all your hair extension needs, check out Rebe Hair. We offer hair extensions made of 100% human hair. Choose from a wide variety of cuts, colors, and lengths for your retail and wholesale needs.