Hand-tied wefts and machine wefts look so similar that the wrong type of extension is sometimes installed, leaving clients dissatisfied.
So, how can you tell the difference between hand-tied vs. machine wefts?
Rebe Hair created this handy guide to help you differentiate between the two.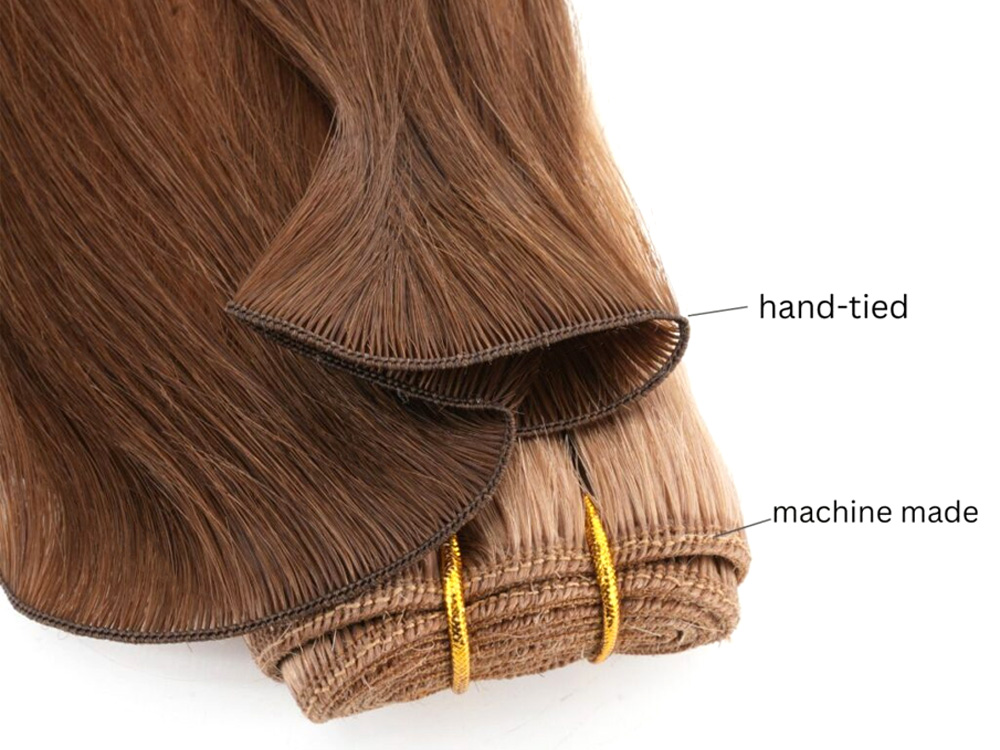 How They're Made
The manufacturing process is implied in their names.
Hand-tied extensions are weaved manually. The worker ties the hair to the extension seam and knots it in place, resulting in a thin, flat weft. On the flip side, machine wefts are sewn using an industrial machine that stitches the hair onto a base material that's big enough to grip, making them bulkier.
Cuticle vs. Non Cuticle
Hand-tied wefts made with 100% human hair can have cuticles—a layer of dead cells that protect the hair from damage. This gives them natural bounce, shine, and elasticity while allowing them to retain their color, shape, and texture for a more seamless look.
However, you don't get these properties from machine wefts.
Machine wefts are often acid-washed to remove their cuticles. But if they're made using remy human hair, they will match the look and feel of your real strands. The only catch is you'll have to replace them every 3 months or so.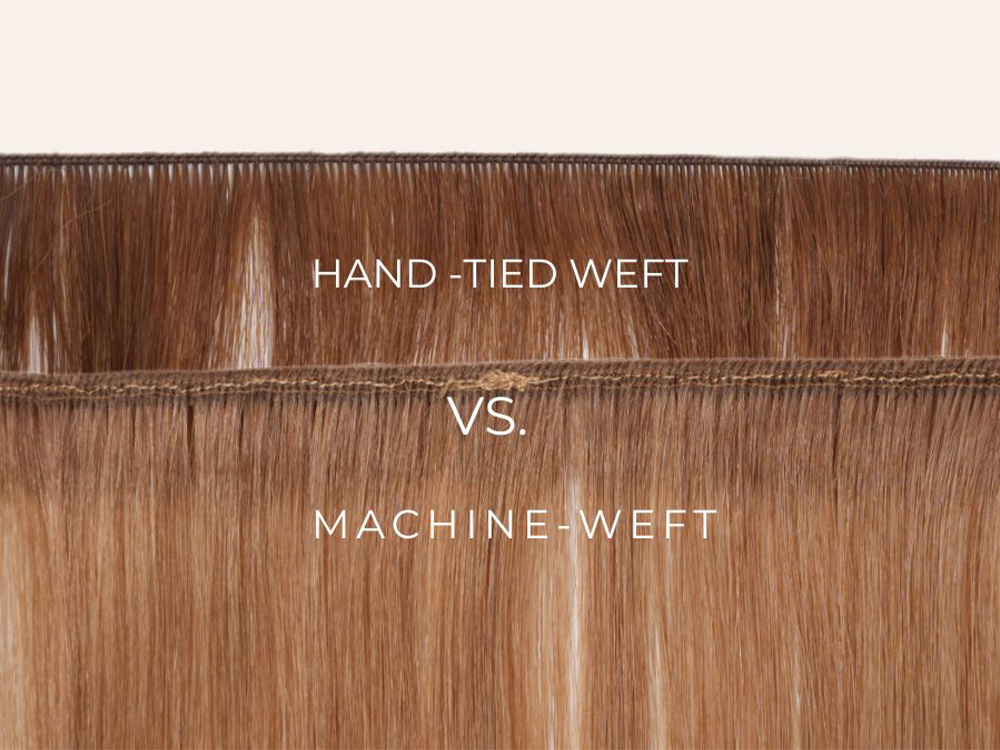 Density
You can create a volumized look that complements the client's curl or wave patterns by stacking one weft over another. Since they're thin, they blend seamlessly when layered without creating an unsightly appearance on the client's scalp. They can also last up to a year with proper and consistent hair care and maintenance.
On the other hand, machine-tied wefts can be 2 to 3 times denser than hand-tied extensions. As such, they are available in only one density which is ideal for those looking to add volume to their hair without increasing the weft count. And since they offer more opportunities for customization, you can achieve a more aesthetically pleasing appearance with machine-tied wefts.
Pricing
Pricing is more or less determined by the time it takes to manufacture the wefts. As hand-tied variants are labor-intensive, taking as much as 8 to 10 hours to produce a full set, they're more expensive than machine-tied extensions.
You can, however, bring the price of a set down by investing in wholesale hair extensions from a leading hair supplier like Rebe Hair.
Customization Potential
Hand-tied extensions are sewn on a continuous line of thread, so you can't cut them to a different shape. However, you can always apply fewer wefts to get the desired volume without weighing your natural hair down. If you ignore the manufacturer's instructions and cut them to size, the attached strands will quickly unravel.
That's not an issue you face with machine-tied hair which can be cut to any length thanks to its manufacturing process.
Thickness and Flexibility
Hand-tied wefts are thinner than machine-tied wefts, making them more flexible. They lie flat against the head and are not detectable. A person will have to look closely before they can tell that they're not a part of your mane! Hence, you can style them any way you want. You can even use them for buns and ponytails.
Be careful about doing the same thing with machine wefts because they will look bulky
The Verdict: Hand Tied Vs. Machine-Tied Wefts
Hand-tied wefts are a popular choice because they're lightweight, sit comfortably on your scalp, and easily blend with your natural hair. But sometimes, clients are after customization which is where machine wefts come in handy.
If you're unsure about what you need, contact our customer service at 1-888-669-8396 or check out our email, Skype, and Whatsapp details.
Who knows? Maybe you'll decide to go with wholesale lace wigs after all!