Specifications
Material: Hand Made 100% Virgin Human Hair
Hair Length: 12Inch-20Inch Can Be Customized
Base Type: Mono (Monofilament) Base
Base Size: 5.5″×6″
Density: 150%, Medium density for fuller coverage
Clip: With 4 Clips, 3BB Non-slip Clips
Texture: Straight but can hold a curl or wave (using heat styling tools)
Other Base: Silk Base, Easi Base etc Can Be Customized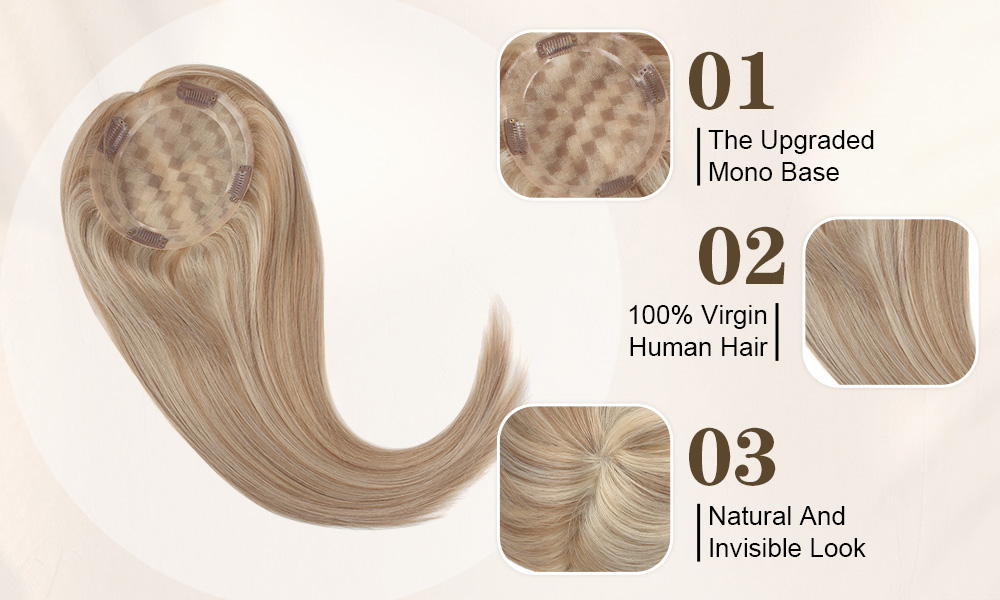 What is Mono Base Topper
A hair topper is a type of hairpiece that is designed to cover thinning hair or bald spots on the top of the head. Hair toppers are typically made from human hair and are attached to the scalp using clips.
With a Mono Base, individual hairs are tied to a fine mesh material that allows both light and air to pass through. The Monofilament Base allows you to change the part as you like for great styling versatility, which can give you a natural look. Mono bases are also extremely durable and have a long lifespan.
One of the benefits of hair toppers is that they are very versatile and can be styled just like your natural hair. You can curl, straighten, or even dye your hair topper to match your desired look. Additionally, hair toppers are very easy to care for and can be washed and styled just like your natural hair.
Overall, if you are experiencing hair loss or thinning on the top of your head and are looking for a natural-looking solution, a hair topper may be a great option for you. They are easy to use, customizable, and can help you achieve the look you want.
The Features
Natural Appearance: Mono base toppers are designed to mimic the look of natural hair growth. The monofilament material used in the base creates the illusion of a realistic scalp, making it difficult to distinguish the topper from your own hair.
Breathability: The monofilament construction allows for excellent airflow, ensuring that your scalp remains cool and comfortable. This feature is particularly beneficial for individuals who may have sensitive scalps or experience perspiration.
Versatility: Mono base toppers usually have a versatile construction that enables you to part your hair in different directions. This flexibility allows you to customize the placement of the topper to suit your desired style.
Durability: Mono base toppers are generally durable and long-lasting. The monofilament material is resistant to tearing or fraying, making it a reliable choice for daily wear.
Easy Integration: One of the main advantages of a topper is its ability to seamlessly blend with your existing hair. The mono base provides a natural transition between the topper and your scalp, resulting in a seamless integration that looks and feels like your real hair.
Styling Options: Mono base toppers offer various styling options. You can use heat styling tools, such as curling irons, straighteners, or blow dryers, to create different looks without damaging the topper. This versatility allows you to experiment with different hairstyles and adapt your look to various occasions.
Convenience: Toppers are generally easy to attach and remove, making them a convenient solution for individuals who want to add volume or coverage to specific areas of their head. They provide a quick and non-invasive way to enhance your hair's appearance.