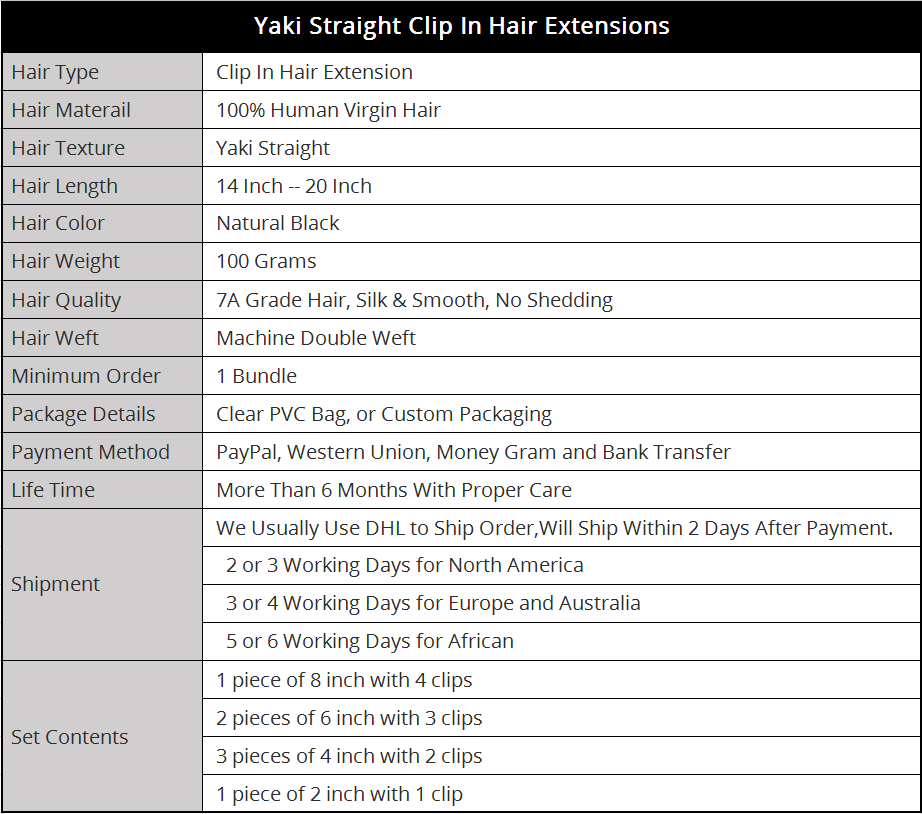 Yaki  Straight  Clip  In  Hair  Extensions  FAQ                                                      
Q1: How Many Sets Clip In Hair Do I Need For Full Head ?
A1: Usually 2 Sets Yaki Straight Clip In Hair Will Be Enough For Full Head. If You Want To Get A Very Full Look, You Might Need Another Set.
Q2: How To Identify Human Hair From Synthetic Hair?
A2: It Is Easy To See The Difference. You Can Pick Single Piece of Them And Identify Them By Burning And Smell. For Human Hair, As It Is Full of Natural Protein, It Will Be Ash and Show White Smoke.
While For Synthetic Hair, It Will Be a Sticky Ball and Show Black Smoke.
Q3: How To Measure The Correct Length for Curly Hair?
A3: The Correct Way Is Straighten The Hair When Measure The Curly Hair.
Q4: Why Are My Hair Getting Tangle or Split?
A4: The Hair Tangles Due To Dry, Oil and Dirt, Please Do Not Comb(even the wide tooth comb) It Under This Condition. Make Sure To Wash Your Hair Twice a Week. If It Dues To The Dry, Please Use Some Good Conditioner To Wash It, Do Not Use The Shampoo, Do Some Deep Condition With It.
Q5: Can They Be Straightened?
A5: Yes, You Could Use Hair Straightener To Style The Virgin Hair. However, Don't Do It Too Frequently, Or The Heat Will Make The Hair Easily Get Dry And Tangled.
Q6: Can I Dye/Color The Hair?
A6: Yes,The hair can be colored. As a General Rule It Is Easier To Darken The Hair Than To Lighten The Hair. We Recommend To Dye Darker, Since It Is Difficult For The Original Color To Fade.
                                                                                            Contact Us